Looking to go boating? Buy a RIB!
Are you looking to buy a boat or simply to get started in boating, and not sure what boat to get? In which case this guide is for you.
The word RIB is a shorthand term for a Rigid Inflatable Boat. A RIB is generally a high-performance powerboat, often powered by an outboard engine on the back. Some larger models may have an 'inboard' engine.
They are light weight, compared with motorboats, and fitted with large, thick, rubber inflatable tubes around a solid hull. The hull is the core part of the RIB, normally made from glassfibre, with a 'rigid' floor, just like a car chassis, hence the name – Rigid Inflatable Boat. The tubes wrapped around the boat helps make RIBs very stable even in choppy seas.
Most leisure RIBs are 'open' without a cabin, just like an open top car with the roof permanently down. Larger RIBs will often have a windscreen that shields the driver and front passenger. Additional crew are seated either on bench seats in front or behind the driver's console, or astride a 'jockey' seat which gives great support when bouncing across the waves.
RIBs come in variety of lengths and layouts, normally starting around 4m up to around 13m long. The bigger the boat, the more it can carry – people, higher loads, larger engines and more fuel giving a greater range to explore the coast.
RIBs are fun and easy to drive
If you want to start boating RIBs are a great choice:
it's quick and easy to learn to drive one
they are easy to handle and manoeuvre, stop and start
just like a sports car they are exciting and exhilarating to drive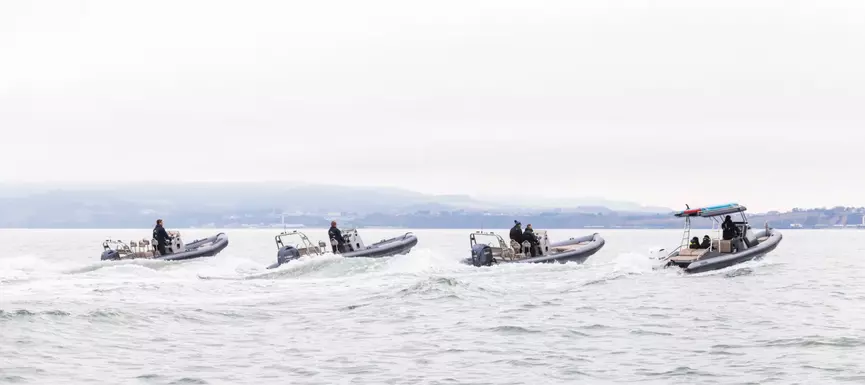 As the RIB driver you are in control of steering and power, through the engine throttle and gears (forward & reverse).
Steering a RIB is similar to driving a car, turn the wheel right to turn right and left to turn left. The main difference is there are, of course, no wheels.
Instead, the steering is connected to the outboard engine or an outdrive (if it's an inboard engine) situated at the back of the boat. It turns as the wheel turns and pushes the boat in the required direction.
As well as being very seaworthy, RIBs are a highly versatile boat to own. You can use them for going for a blast across the waves, a slower speed adventure with the family and small children or simply drift along with a fishing line out in open water. They are a great boat to visit the beach and will happily sit at anchor or on the sand as the tide goes out.
Sitting low on the water compared to many GRP (glass fibre) sports boats and motor cruisers, they are great boats to use as a swimming platform. You can easily pull yourself back in over the soft tubes, or use a small boarding ladder, and it doesn't matter if the boat gets wet inside. This is why RIBs are often popular for diving enthusiasts too.
RIBs from 4m – 5.5m will happily pull up a waterskier on two skis with a 30-60hp engine.
Larger RIBs with a 70hp+ engines are suitable to tow most types of water skier, wakeboarder or inflatables.
Once back from your trip they are easy rinse out, especially after sandy feet have clambered aboard! If you want to take it on holiday, or launch from a different place, they can be towed on a road trailer behind a suitably sized vehicle.
How to start driving a RIB?
The quickest and easiest way to learn to drive a RIB is to take a course that is specifically designed for people new to RIB driving and powerboating.
The RYA Powerboat Level 2 test is easier than doing your driving test. After two days training with a qualified Instructor, you end up with your license, a certificate issued by the RYA (Royal Yachting Association) the governing body for boating.
You'll learn everything from handling the boat in close quarters at low speeds, bringing it a long side a dock (just like parking a car), turning, reversing. Also, you'll come away with the key basics of driving at high speeds, known as 'planing' where the boat effectively skims over the waves.
The course's key focus is safety. You'll learn how to pick someone up if they fall overboard, essential safety information and basics of navigation too.
Getting afloat after your Powerboat Level 2
You can get going straight after your course, and just like doing a driving test, nothing beats getting out and practicing. Plan your trips and build your experience up by going to some fun beaches, harbours and destinations.
Of course, you need access to a boat and one route is to buy one. There are many boat sales companies, boat 'brokers' and online sales/brokerage sites, that sell a variety of RIB brands. If you are new to boating it's best to get good advice about what you need from a professional. Companies like RIBs For Sale will:
Talk you through the options.
Help you buy your first boat matched to what you want to do.
Part-exchange or sell your boats as you progress.
You don't have to buy a RIB straight away though. With your Level 2 licence you can normally charter (hire) a powerboat from a reputable company, or join a boat share club such as Boat Club Trafalgar.
Joining a club like this, is a terrific way to start boating if you are not yet ready to own your own boat. You simply subscribe each month and use the Club boats whenever you want to go out.
If you really get into RIB driving, many training centres offer further Intermediate and Advanced level courses, where you can return to later to take your skills to a higher level, if you wish.
Alternatively, you can always book a bespoke session with an instructor to work on something specific where you'd like more practice. Parking in a marina with a strong current is often a favourite coaching session.
Why buy a boat with inflatable tubes?
This is where the RIB is an excellent boat to build your confidence as you gain powerboating experience.
RIBs were originally developed, back in the sixties, for the RNLI to use as rescue boats. The inflatable rubber tubes were designed to give protection and limit damage when coming alongside other boats in rough seas.
It means as a RIB driver you can have confidence you won't do any damage if you don't get it quite right every time. If you are coming alongside a concrete quay, a floating dock (known as a pontoon) or another boat, the tubes will act as large soft 'bumpers'. They will absorb any unnecessary motion if you accidentally hit something hard, rather than cracking or splintering which wood or glassfibre are prone to do. Having the tubes means:
this is not an excuse to arrive at speed and hope for the best!
You can feel the added level of safety and protection.
Reduce any fears of causing damage whilst you build your experience
The RIB tubes add an additional level of buoyancy (flotation), which helps increase the load carrying capacity of the boat relative to its size. This makes the boats suitable for taking out large groups of people, plus watersports kit and equipment. In the unlikely event that the the solid hull of the RIB gets damaged, the tubes will also help keep the boat floating until it can reach dry land for repairs.
Another great advantage of the RIB tubes is they help to add stability when the boat turns at speed and also when it's stationery and your passengers (crew) are climbing on board.
Some brands of RIB, such as Ballistic RIBs specialise in optimising the tube position, balancing the boat's high performance handling with a low hung tube that increases stability and is shaped to deflect water spray away from the boat to keep you all dry at speed. It's all very civilised – and good fun!